As a Harry Potter fan, you have the chance to visit the filming locations of the Harry Potter films in London. Follow in Harry's footsteps and have your picture taken on a broomstick or see the potions up close. In this blog you will find the Harry Potter locations in London that are worth visiting and find our experience with the Warners Bros Studio in London.
De Warner Bros Moviestudio
Warner Bros, the maker of the Harry Potter films, bought the film studios in London and converted it into a permanent museum about the Harry Potter films. In this Warner Bros studio, you step into the world of Harry Potter. Although I am not necessarily a mega fan of Harry Potter, more of movies in general, I found the visit to the studio very cool. By the way, I did see all the movies twice!
Warner Bros Movie Studio: how to get there
The Warner Bros Studio is not in central London, but slightly outside it in Leavesden. This location is easily accessible by train (and you can use your Oyster card). The tour of the studio takes about three hours but you can also explore Hogwarts at your own pace.
The studio recommends taking 3 hours to check out the studio, but I personally think you have to be a big fat fan of the Harry Potter books. We were done after about 2 hours (we were still suffering from our jet lag anyway because we just came from Canada before that).
Warners Bros Movie Studio: my experience
When you arrive at the studio, you wait until it's your group's turn. Once the tour starts, you and a group of people walk into a room. We are shown a movie where Harry Potter does a story and then we get to enter the famous room.
The cool thing about the Warner Bros Movie Studio in London: is that you see all kinds of things: how special effects are created, how they make a character look bigger than other characters, the potions, Albus Dumbledore's room, the student's dormitory and you can take your own picture using special effects.
A tip from a friend I received was that she found it to be more of a museum than an experience especially. If you go here I would keep that in mind. I myself had no expectations so I really enjoyed looking around. That friend of mine actually found it disappointing, perhaps because she had high expectations.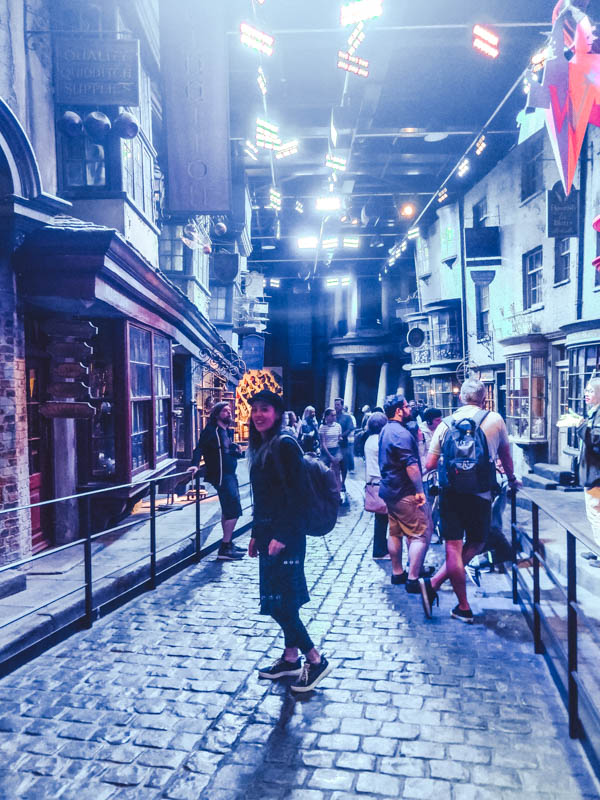 Tickets to the studio
You can buy your tickets to Warner Bros Studio London cheapest through Warner Bros Studios' official website in advance online.
The cost is from £47.95 (approx. €48) excluding transportation. Booking in time is recommended as tickets sell out quickly!
If you prefer to book a ticket with transfer, then this Harry Potter tour + transit is also recommended. You will then have access to the studio with a guided tour and a transfer will be arranged for you.
Visit Track 9 3/4
Coming by King's Cross station? Then don't forget to walk along track 9 3/4. From here, the Hogwarts Express ran to the School of Witchcraft and Hocus-Pocus. In the arrival hall of the station, you can find the platform quite easily and a luggage trolley can be found "disappearing" into the wall.
Take a walking tour
One of the most popular ways to find Harry Potter locations in London is to book a guided walking tour. You will then pass most of the highlights of the Harry Potter movie locations and with the help of the guide, the movie comes to life.
There are a few companies that offer Harry Potter walking tours of London. One of the top walking tours is the Magical London: Harry Potter Guided Walking Tour. You meet your guide in Soho and walk in the footsteps of your favorite wizards and witches as you visit Diagon Alley and Platform 9 3/4. The guide also shares background information with the Harry Potter phenomenon, great fun!
Als je overweegt om een ​​London Pass te kopen dan kun je met de deze pas gratis de Harry Potter-tours maken die worden aangeboden door Brit Movie tour (de wandeling is momenteel gratis met de London Pass) en London Walks (met korting met London Pass ).
If you are considering buying a London Pass, the pass allows you to take the Harry Potter tours offered by Brit Movie tour (the walk is currently free with the London Pass) and London Walks (discounted with London Pass ) for free.
Hiking with a Dutch guide
Explore London with a Dutch guide! Zarina is Dutch, living in London and has a specialty for walking through Shoreditch. But she also provides Harry Potter tours and walks along the Thames that take you past most of the famous sights.
Check out Zarina's website for more info on the tours Zarina offers!
Which Harry Potter films were shot in London?
Every Harry Potter movie has scenes filmed in London. Locations range from Leadenhall Market (the entrance to Diagon Alley) to Kings Cross Station (home to platform 9 3/4 and the boarding point of the Hogwarts Express).